Since I work for myself I earn less, but it seems like I can do more. Not only do I have more time for fun things, there is also money for it.
Earn less and do more
I started to work more and more with the profit first idea. I already appeared to do it in part without knowing the term. I started making a budget for my company. At the time I knew what I had to earn to cover my fixed costs for Databeet. By also making a budget for private and including it in the Databeet budget, I had an idea what my fixed costs are for both private and Databeet and how much I have to earn.
Put aside
I didn't leave it at that. I also started saving how small the amount was at the start of my career as an entrepreneur. That is why I built a buffer for myself and my company, Databeet.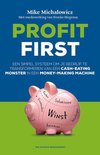 Profit first
een simpel systeem om je bedrijf te transformeren van een cash-eating monster in een money-making machine
€31,50
Op voorraad. Voor 23:59 besteld, morgen in huis
Free shipping!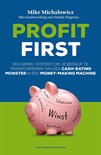 Profit first
een simpel systeem om je bedrijf te transformeren van een cash-eating monster in een money-making machine
€23,99
Direct beschikbaar
Free shipping!
Paying yourself
After reading Profit First I also started paying myself a salary. I did not leave it at that I started a savings account for each type of cost I had. Every invoice that I sent and was paid, I divided the invoice amount among the various saving accounts according to a fixed percentage per cost category. So I made one regular business account, 1 private account and 7 savings accounts. The 7 savings accounts I gave the following names:
Study: From this account I pay all the studies I want to do.
Marketing: With this I pay all the marketing stuff for my company.
VAT and Taxes: This account pays all my VAT and taxes
Travel costs: I sometimes travel for business. This is paid by this account.
Crowdfunding: With opening this account I am trying to work on my retirement money. I invest in crowfunding and bonds to make more money.
Profit: This account is my profit account. I am building a buffer with this account. So my company can survive difficult times and also buy special things.
Fixed charges: All the (fixed) cost of my company are paid from this.
And the Account named Guiselaine is my private account. The money in this account is to use on my private costs and savings.
As you can see in the picture each cost has a fixed percent of the invoice I earn going to it. I tried this for a year. I liked it and changed the fixed percentages till I found the right one for me. And when I noticed this was working I wanted to do this also for my private account.
Private Account
So now I am the proud owner of several private accounts, so that I also have a better grip on my money there. The accounts I made for the different costs look like this:
Fixed charges: Cost like rent, municipal taxes, water, electricity and heat, etc are paid from this account.
Savings: On this account I save to have a buffer and also special things I want.
Groceries: With this account I pay the groceries.
Travel: Yes I love to travel so I make sure an fixed amount is going to this to me important item.
Clothes: Yes, I need some clothes during the year so I make sure I have to money for it when needed by having a account for it.
House & Balcony: The house needs stuff like plants or when things break. With a separate account for this I know that when I need the money for it, it will be there.
In the table below you see how I a located the percentages. This works for me, for you it might be slightly different.
With doing this I am a proud owner of retirement money, a buffer and money to dedicate to my costs. I know what I have and what I spent. And I think I spent it smart.
If you whant to do this too. You can download the Excel Sheet I made especially for this. There is an English and a Dutch version!
Try it for yourself and be happy!
Using the Excel
As you can see I made an example for you in the picture above. If I earned 100 euros with my invoice I fill it in the yellow box below earnings and Excel divides the money for me to the different accounts with the fixed percentages I decided before.
The only thing left for me to do is transfer the money from my regular account to the different accounts. I do this with each invoice that is paid to me. You can also do this once a month if that suits you better.
In the second part of the picture you can see how the money is divided on my private account to my private costs and savings.
Have fun using this Excel template. Let me know if you have any questions or suggestions. In the mean while you can also read other blogs about Excel or use other Templates made in Excel. If you want to acquire more knowledge in Excel see this page for the courses Excel I give.
By admin
/ August 10, 2020
I have been eating less meat for a long time, but didn't no how to vary with vegetarian food.  I've...
Read More
{"slides_column":1,"slides_scroll":1,"dots":"true","arrows":"true","autoplay":"true","autoplay_interval":2000,"speed":300,"lazyload":""}